Fried Rice VS. Vietnamese Hibachi Bowl
The Best Fried Rice & Hibachi in Gastonia is NOT Where You Think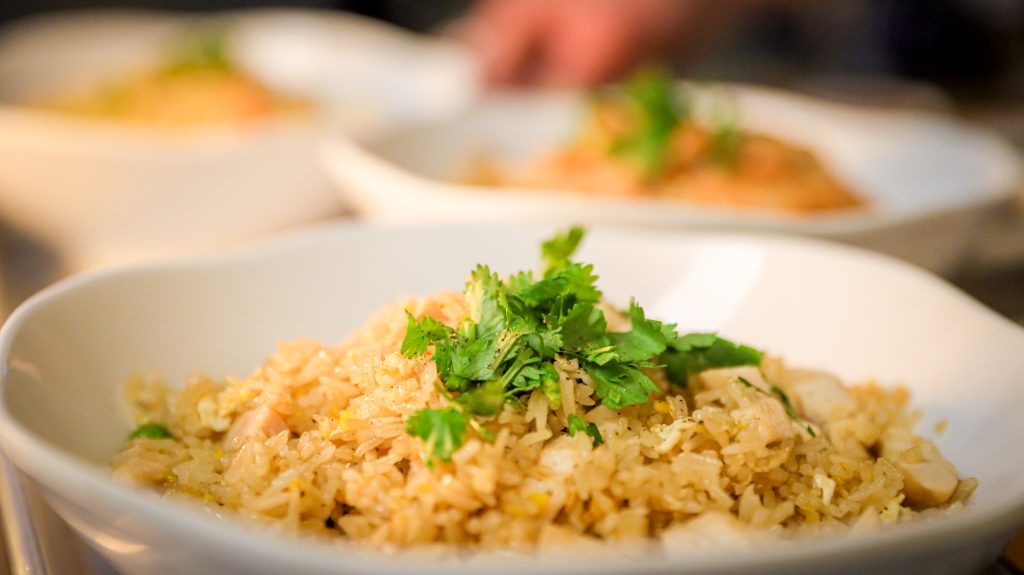 What's the difference and which one is better?
Let's Take A Closer Look At Each One
PLUS, SEE VIDEO AT BOTTOM!!!
Bep-pa's Classic Fried Rice is what most people think of when they think of 'fried rice'.
This dish is cooked in the wok with egg, tiny veggies, and your choice of protein.
Now, that said, there are a couple things that set Bep-pa's fried rice apart from the fried rice you'll find at other places.
First off is the rice we use is Jasmine rice.
Now Jasmine rice is the highest quality in long strains of rice.
It is excellent for steamed rice, and it makes amazing fried rice!
A lot of places say they use jasmine rice.
But, as with anything there are quality levels.
I personally go to Charlotte to pick up our rice–because the distributors don't carry a quality of rice good enough to meet my standards.
And the quality of rice matters, a lot.  
So, at Bep-pa we're starting with premium jasmine rice.
The next thing that you'll notice that sets our rice apart is the seasoning sauce.  
We–like most places–use soy sauce to season our fried rice when we make it for you.
But there are a plethora of styles of soy sauce, each with their own range of high or low quality.
Unlike any of the other places in Gastonia, we use Vietnamese style soy sauce.
You are going to instantly taste the difference when you try our fried rice.
So, the Classic Fried Rice sounds great…but what about the Vietnamese Hibachi Bowl?
The Vietnamese Hibachi Bowl was born out of a high demand for a plate that has protein sauteed like on the Vietnamese Rice Bowl (it's completely different–don't get them confused!), but with fried rice instead of steamed rice.
With the Vietnamese Hibachi Bowl, you get everything that the Classic Fried Rice has EXCEPT the protein isn't sauteed together in the wok with the rice.
Instead, the protein is sauteed in a special blend of Vietnamese style spices and sauce before being placed on top of the fried rice.
Think of it as akin to a  Japanese Hibachi style  bowl — but on STERIODS!
This bowl is loaded with flavor and you will love the way that the protein (chicken, beef, shrimp, all three, or tofu) is sauteed!
Now, there is something you need to know about the Vietnamese Hibachi Bowl if you are comparing it to a Japanese style hibachi or teriyaki plate.
By default, our bowls will have fried rice, protein, and a cilantro garnish–but there will NOT be mushrooms, broccoli, zucchini, or onion sauteed together as part of the bowl.
However, you can request to have some added at no extra charge.
Right now, we want to determine what the preference is for this style bowl–
—With veggies or without.
Once we know that, we'll adjust the default menu option accordingly!
Now, there is one aspect of both of these dishes where we have adapted to popular demand–we serve each with shrimp sauce (also called white sauce, yum yum sauce, spicy mayo, etc.)
So, if you typically enjoy a good fried rice plate, then don't pass up the opportunity to give one of these a try!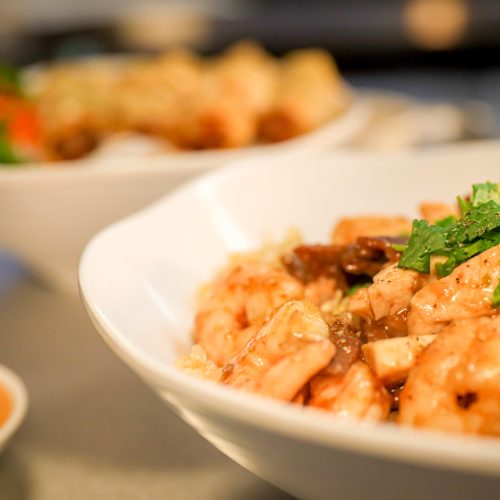 Interested in trying one of these dishes?
But Wait, Which One Is More Popular?
As I write this, these two dishes are neck-and-neck.
But if you're asking this question, you're probably trying to decide which one you should order.
Now, here's the best way to find the answer to that question:
Do you usually prefer to have your protein all mixed in with the rice,
                OR
Do you like to have it start out as separate so you can mix it in slowly as you eat?
Use your answer to that question to gauge which of our Fried Rice options you should get when you visit.
Now, there are two more things for you to do to really understand the difference between these two dishes.  
The first is to watch this video:
The second thing is to come visit us!  Really the best way to try new cuisine is by dinning in.  You can see our location HERE:
Now, after all that, if you're hungry for more cool food ideas, check this out: