This Amazing Rice Bowl is taking Gastonia by Storm
Look, I know that sounds like hyperbole.
And maybe saying "by storm" conjures up the wrong type of image.
I mean, these rice bowls aren't charging in on horses with lances raised…
Actually, they're delivered to your table by courteous server with a warm smile.
All that's to say that the metaphor might need some work, but there is one thing that is for sure:
If you like rice, exotic and fresh flavors, and a dish that is as healthy as it is tasty…
…then you've got to try this bowl!
Imagine Japanese Hibachi + Arnold Schwarzenegger levels of flavor, plenty of fresh veggies, and premium jasmine rice.
That's what the Vietnamese Rice Bowl is like.
You're going to love how all these elements come together–oh and did I mention the sauce?  
This classic Vietnamese vinaigrette is phenomenal and brings everything together.
And the protein choice will be sauteed in a traditional–and amazingly tastly–Vietnamese style!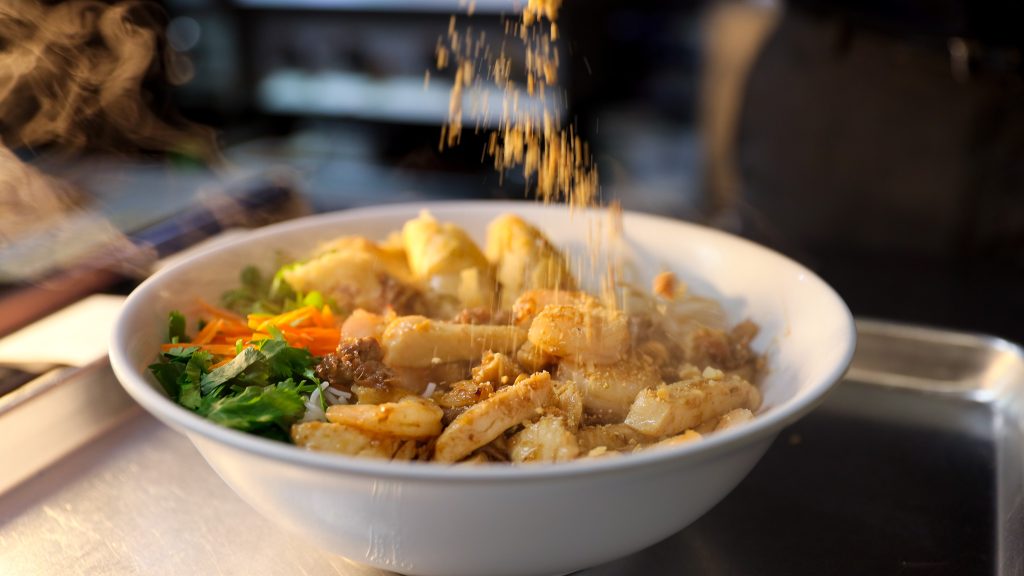 FAQ
What are the veggies that come with it?
The Vietnamese Rice Bowl includes fresh cucumbers, salad mix, cilantro, basil, and seasoned beansprouts.
What protein options are there?
You can choose from sauteed chicken, beef, shrimp, or tofu.  You can also choose the COMBO (chicken, beef, shrimp & 2 eggrolls cut up on top!).
And for cool people like you that visit our website we have another option that isn't on the menu:  sauteed pork!
What if I don't want carbs?
No carbs?  No problem!  Just ask us to replace the rice with a salad base!  This makes an AMAZING low-carb meal and the sauce that comes with the Vietnamese Rice Bowl is awesome on a lettuce base!
Is this better for Dine-in or ToGo?
The great think about this dish is that it is so versatile.  It work great as either dine-in or take-out!  It is also suitable for both lunch or dinner!
But what if I don't like veggies?  Or my spouse doesn't like veggies?
If you or someone you're ordering for doesn't like veggies, try THIS AMAZING DISH.